The Training Knife & Fighting System that changed the way the Military looks at Fighting.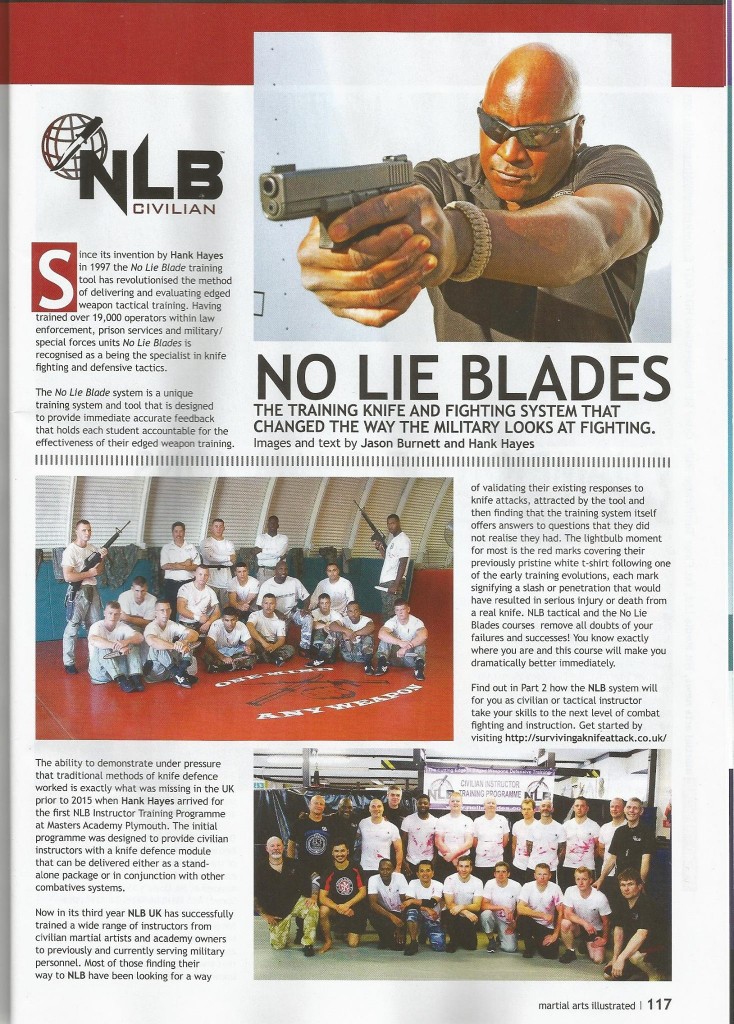 MARTIAL ARTS ILLUSTRATED UK MAGAZINE ARTICLE 2017 Part 1
Since its invention by Hank Hayes in 1997 the No Lie Blade training tool has revolutionised the method of delivering and evaluating edged weapon tactical training. Having trained over 19,000 operators within law enforcement, prison services and military / special forces units No Lie Blades is recognised as a being the specialist in knife fighting and defensive tactics.
The No Lie Blade system is a unique training system and tool that is designed to provide immediate accurate feedback that holds each student accountable for the effectiveness of their edged weapon training.
The ability to demonstrate under pressure that traditional methods of knife defence worked is exactly what was missing in the UK prior to 2015 when Hank Hayes arrived for the first NLB Instructor Training Programme at Masters Academy Plymouth. The initial programme was designed to provide civilian instructors with a knife defence module that can be delivered either as a stand-alone package or in conjunction with other combatives systems.
Now in its third year NLB UK has successfully trained a wide range of instructors from civilian martial artists and academy owners to previously and currently serving military personnel. Most of those finding their way to NLB have been looking for a way of validating their existing responses to knife attacks, attracted by the tool and then finding that the training system itself offers answers to questions that they did not realise that they had. The lightbulb moment for most is the red marks covering their previously pristine white t-shirt following one of the early training evolutions, each mark signifying a slash or penetration that would have resulted in serious injury or death from a real knife. NLB tactical and the No Lie Blades courses remove all doubts of your failures and successes! You know exactly where you are and this course will make you dramatically better immediately.
Find out in Part 2 how the NLB system will for you as civilian or tactical instructor take your skills to the next level of combat fighting and instruction! Get started by visiting http://survivingaknifeattack.co.uk/
Article written and pictures by Jason Burnett and Hank Hayes
Comments
comments