No Lie Blades has more letters of recommendation than the 3 top competitors in the industry combined! Please take a look for yourself.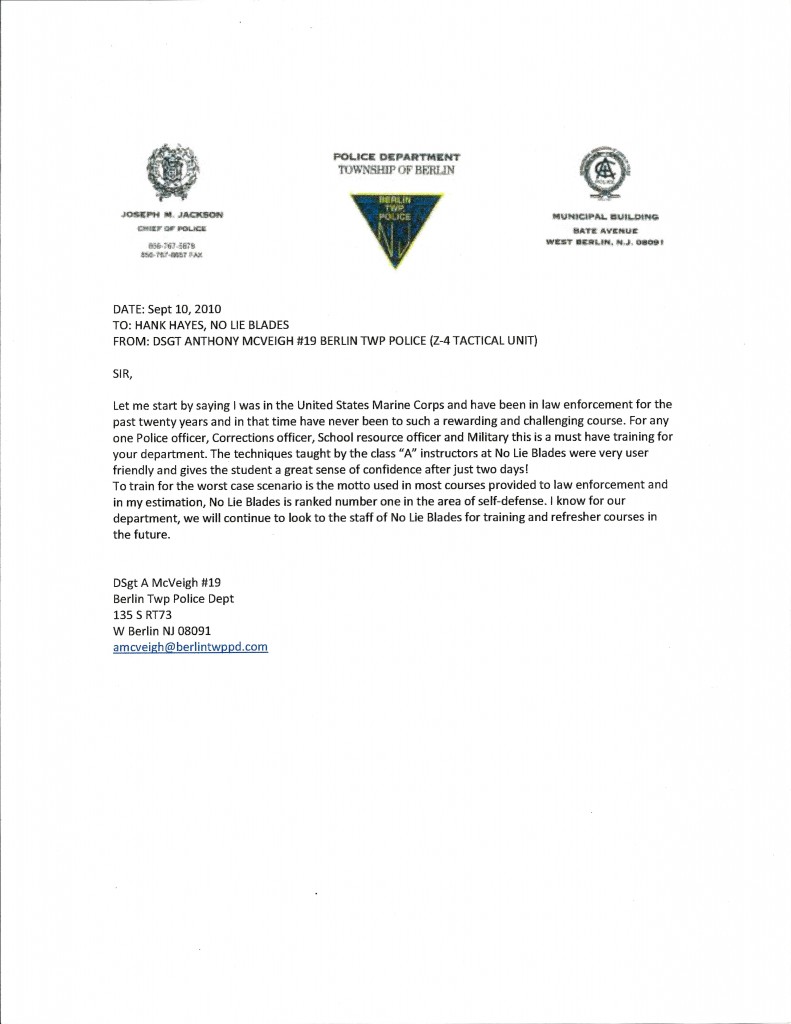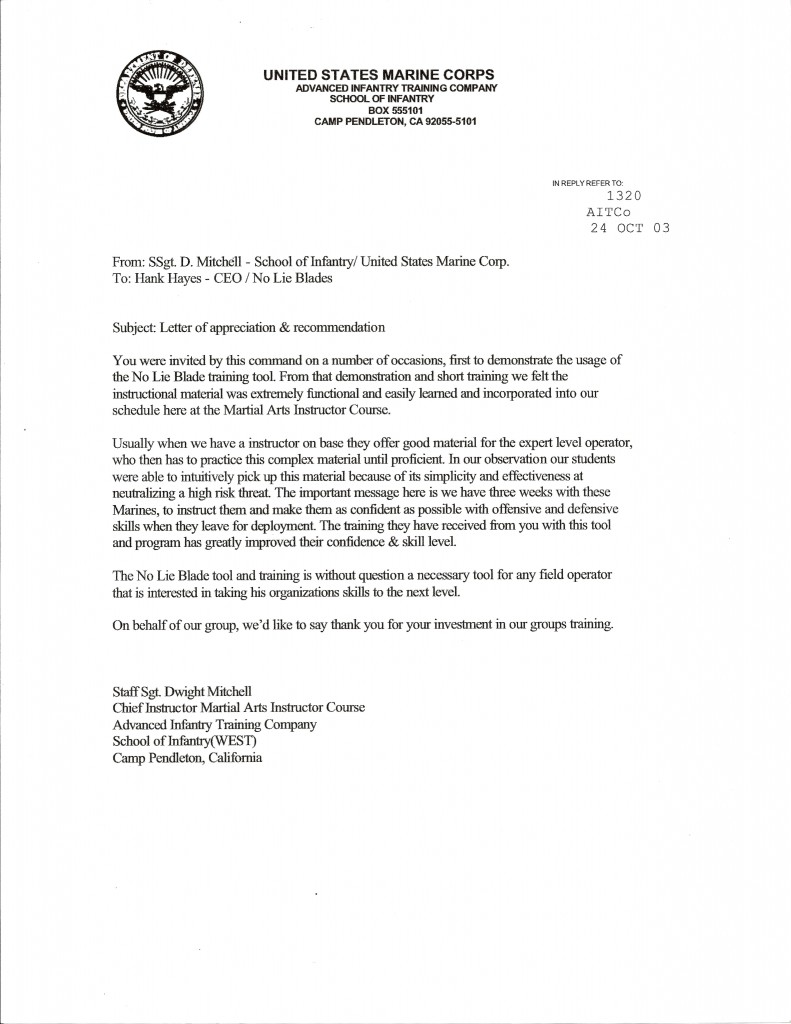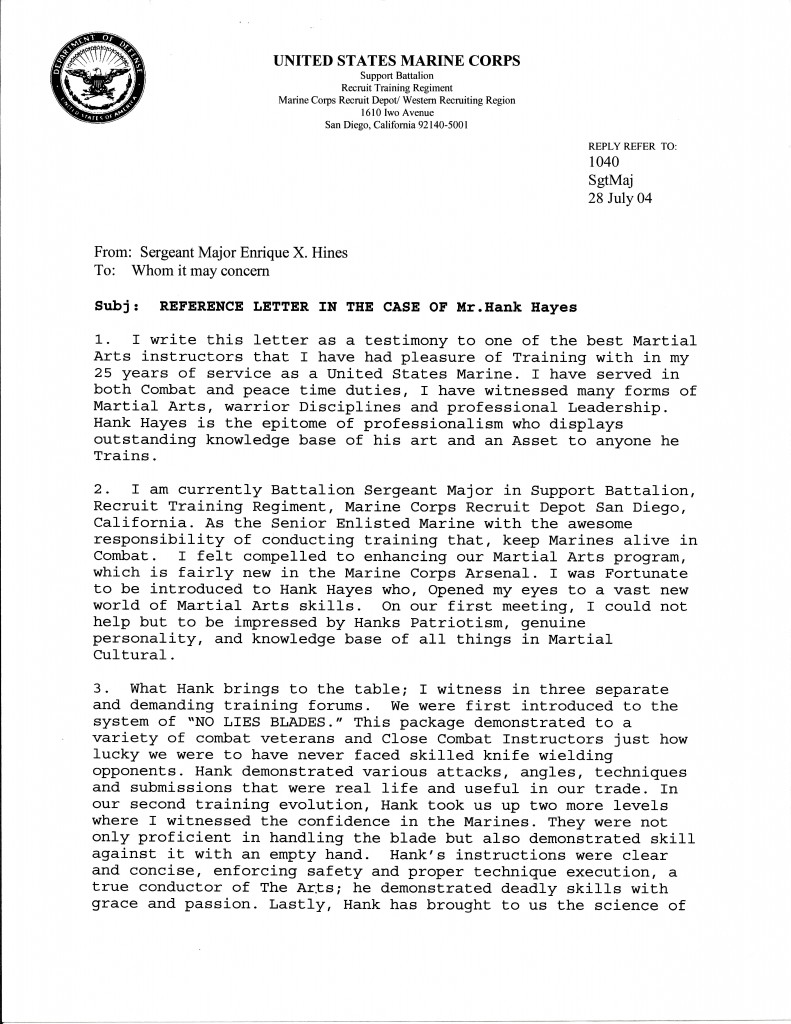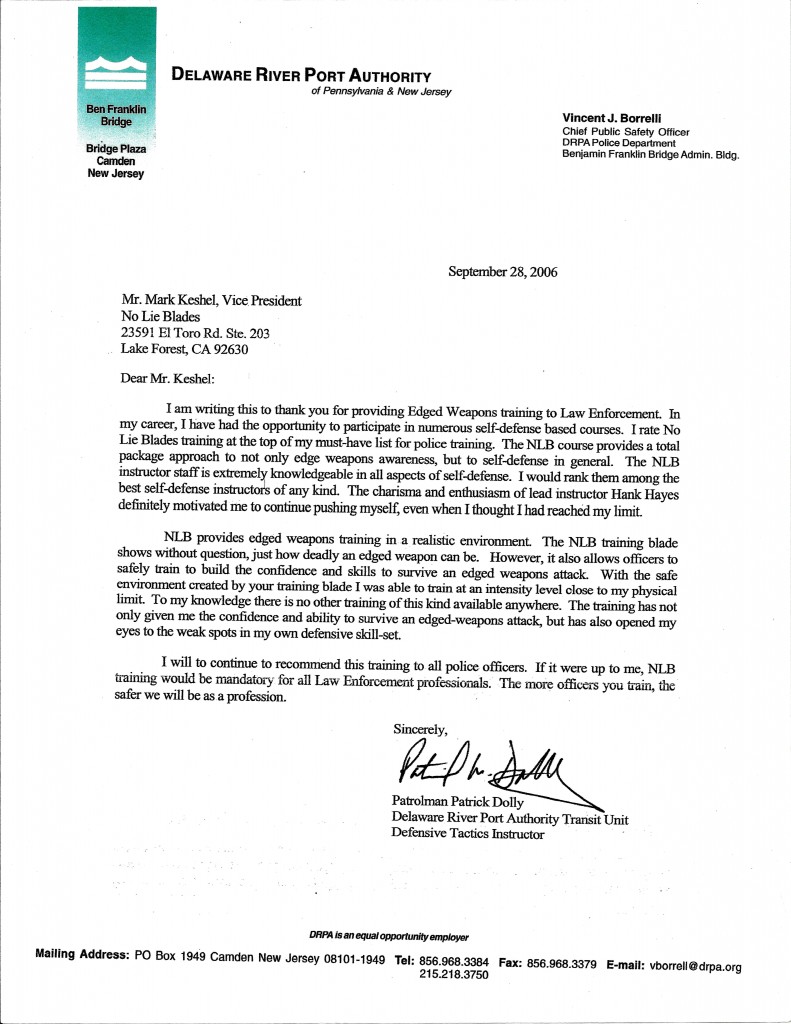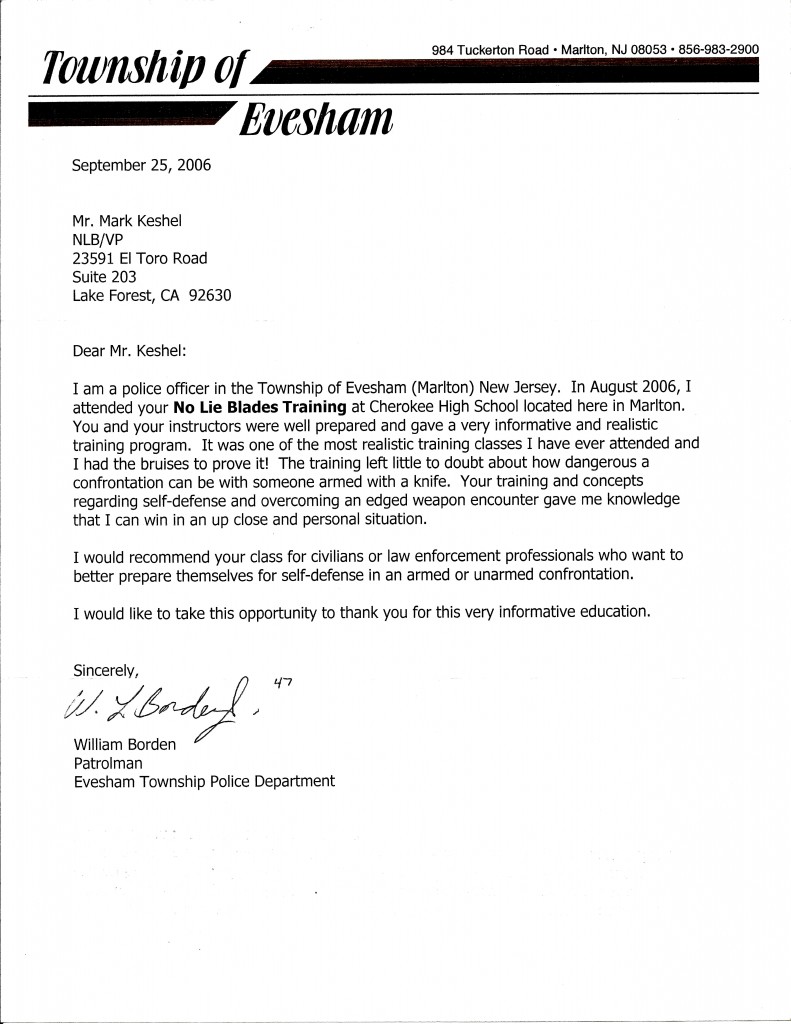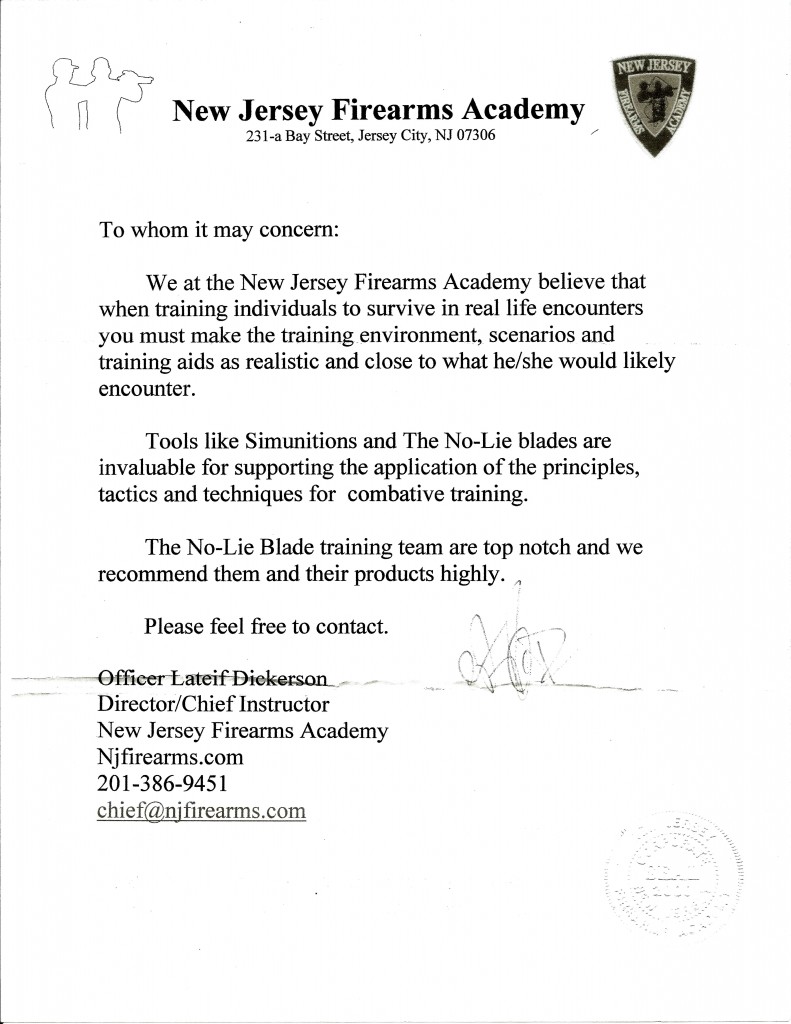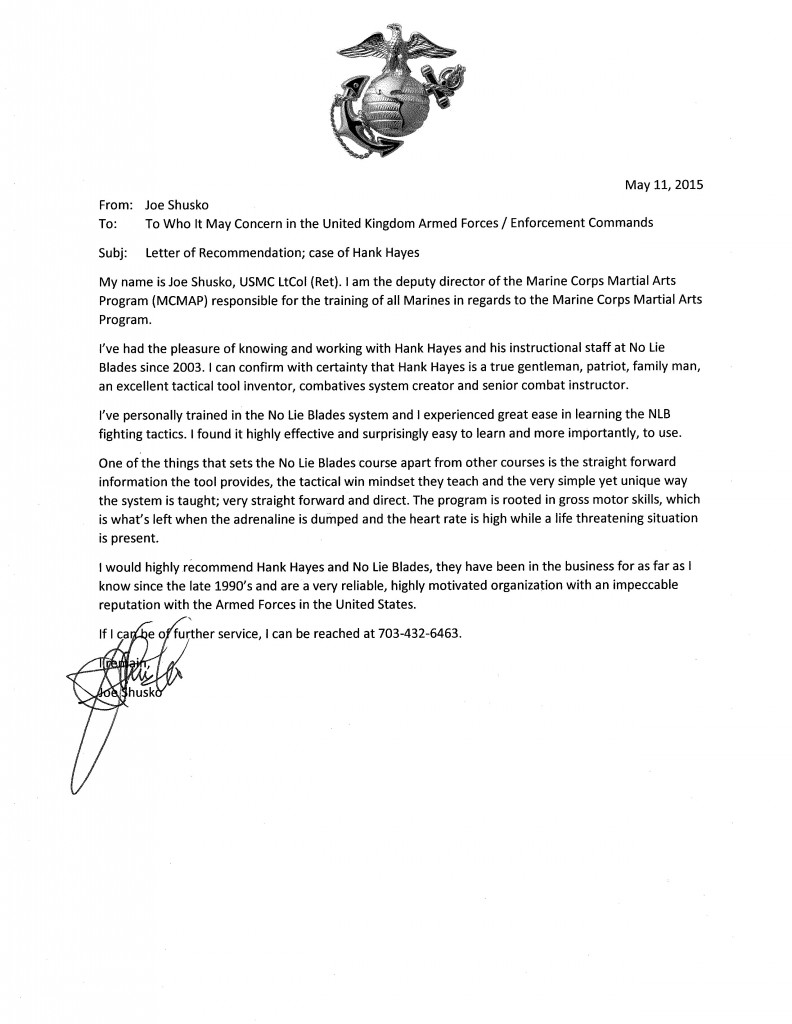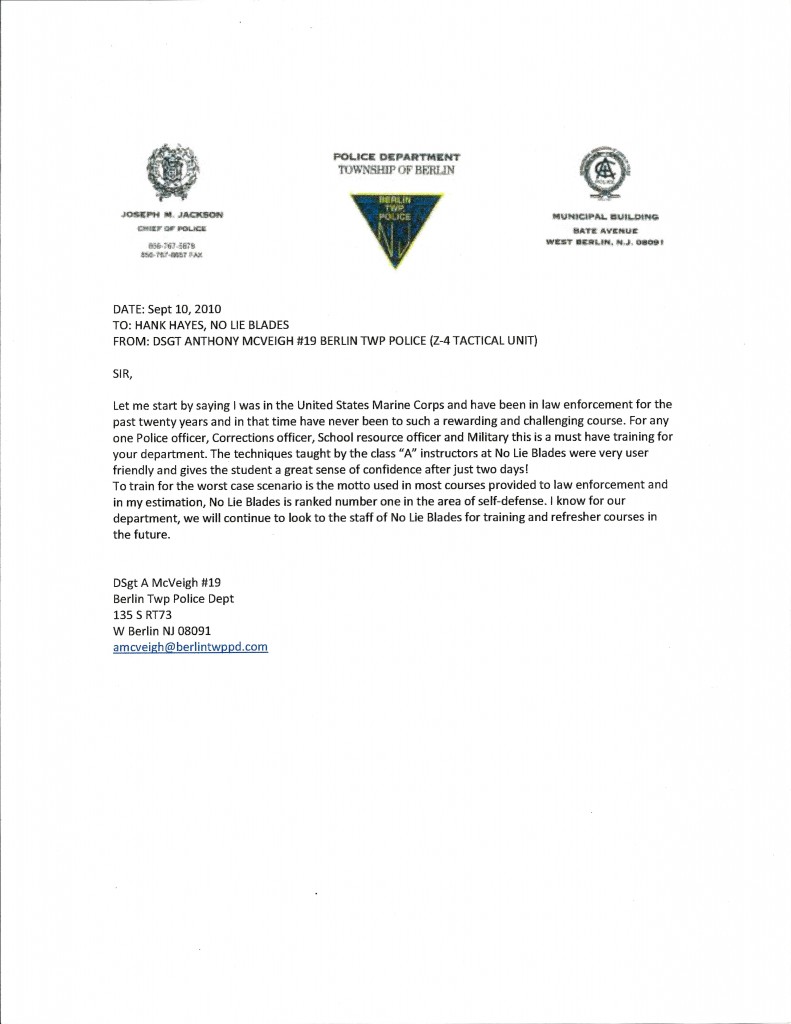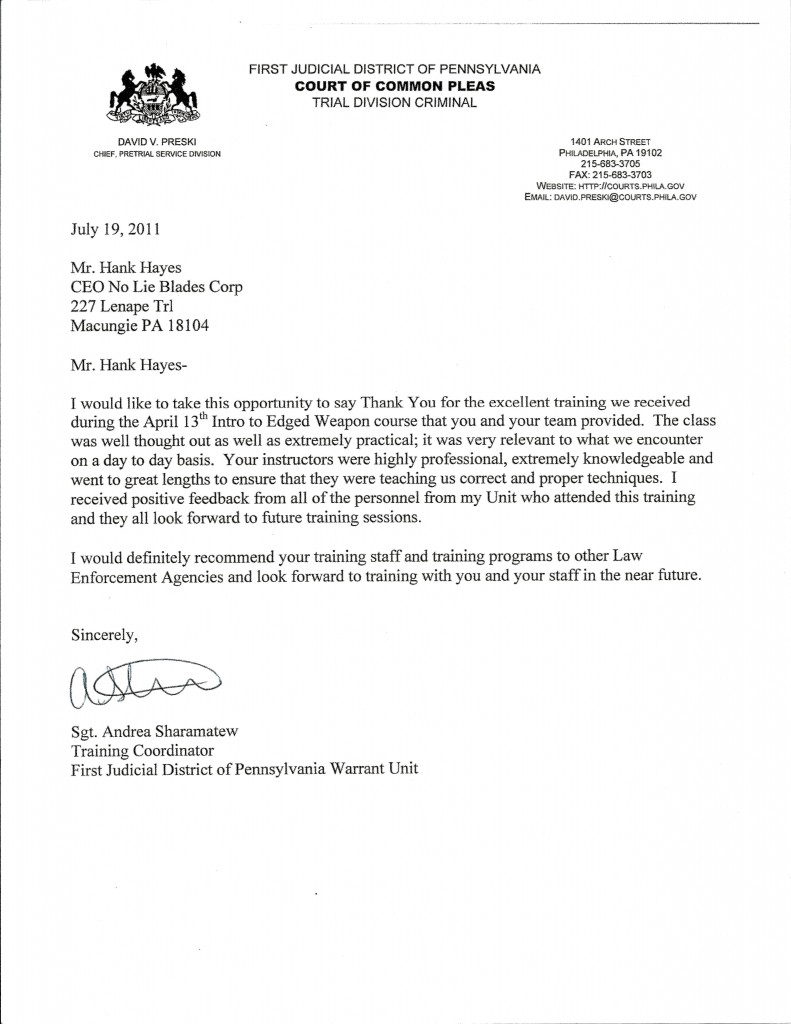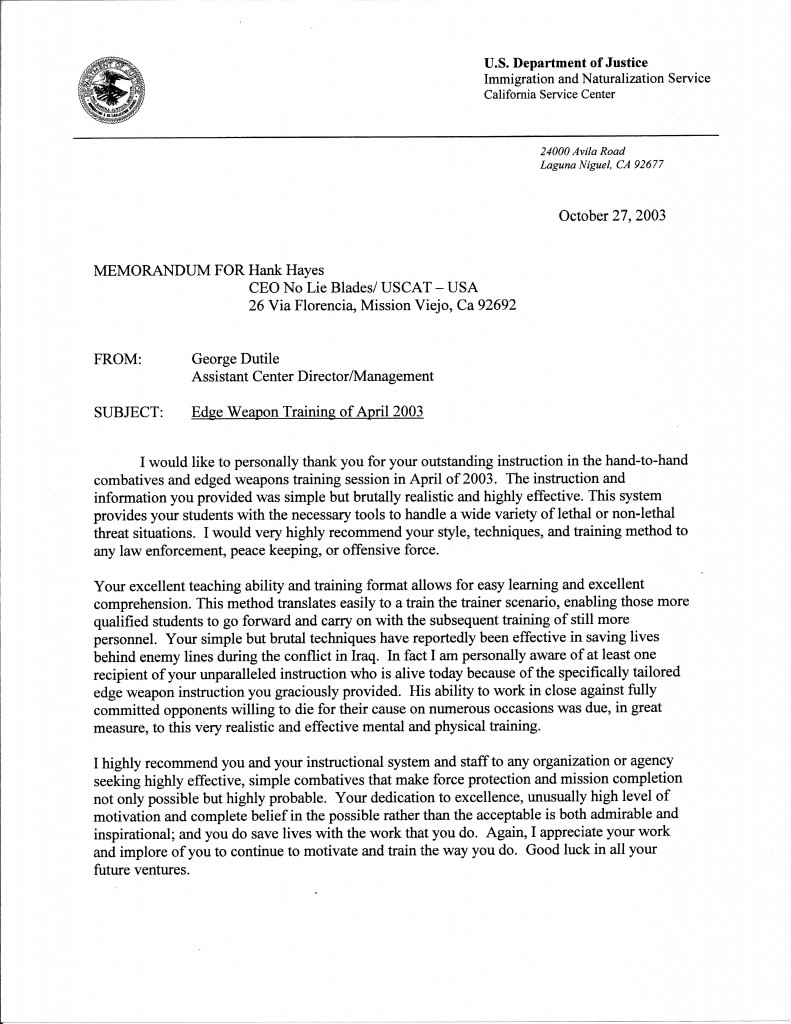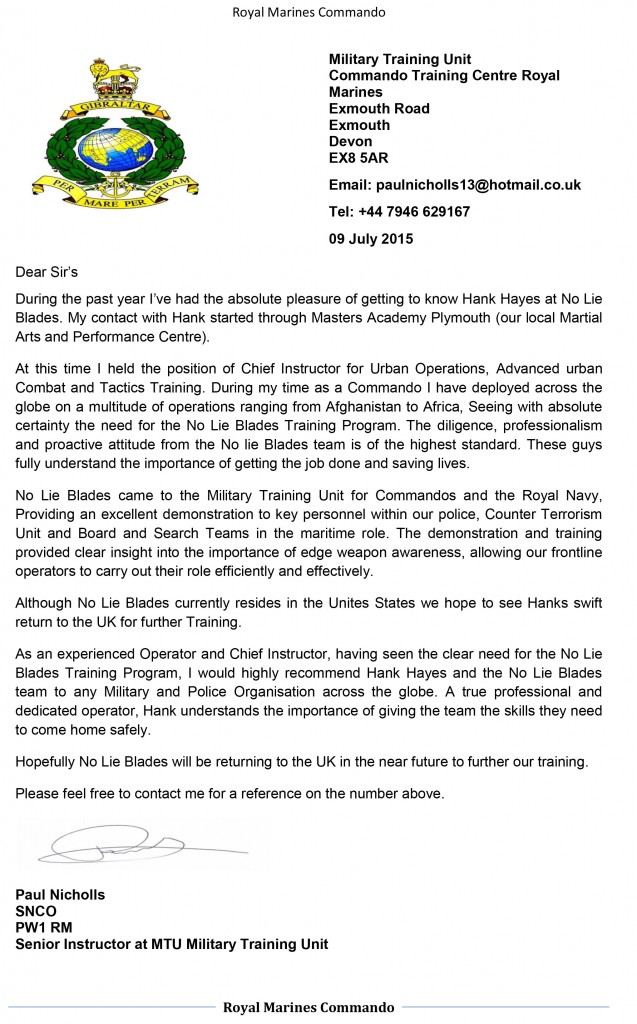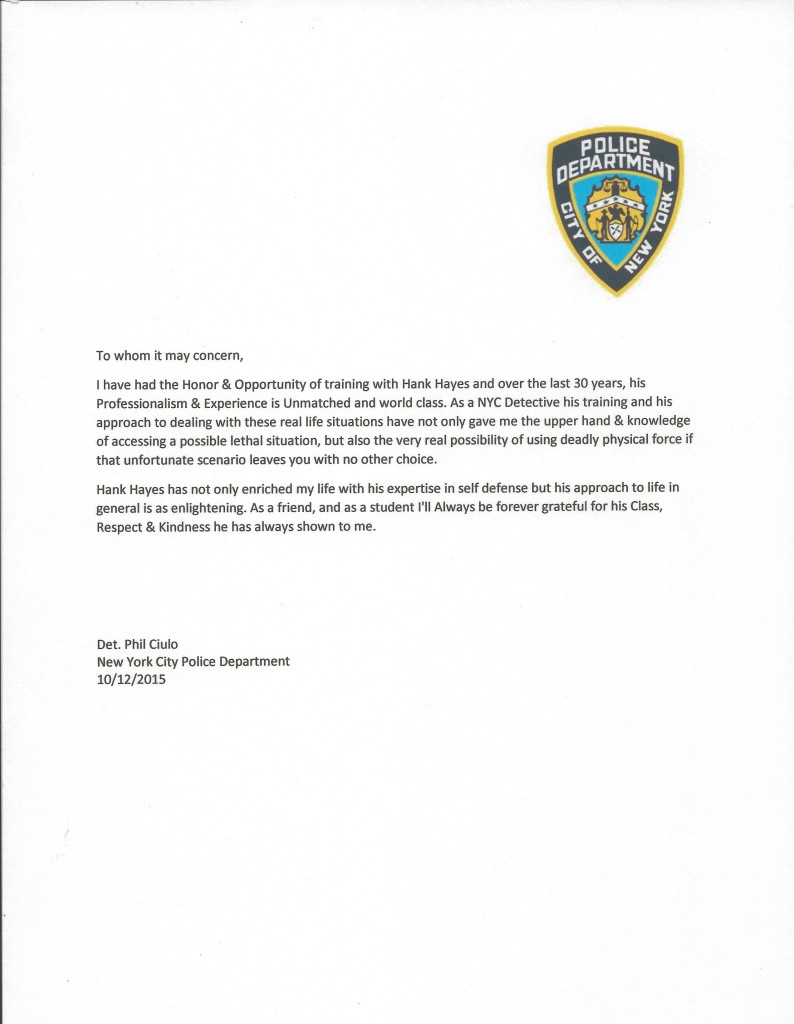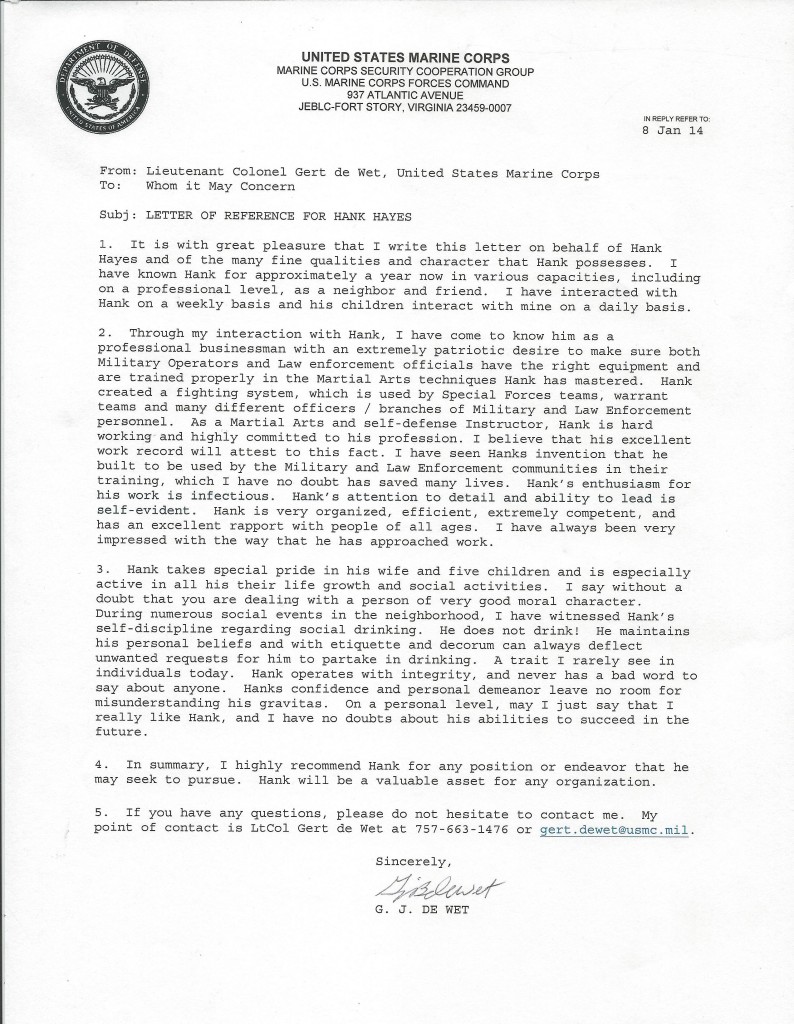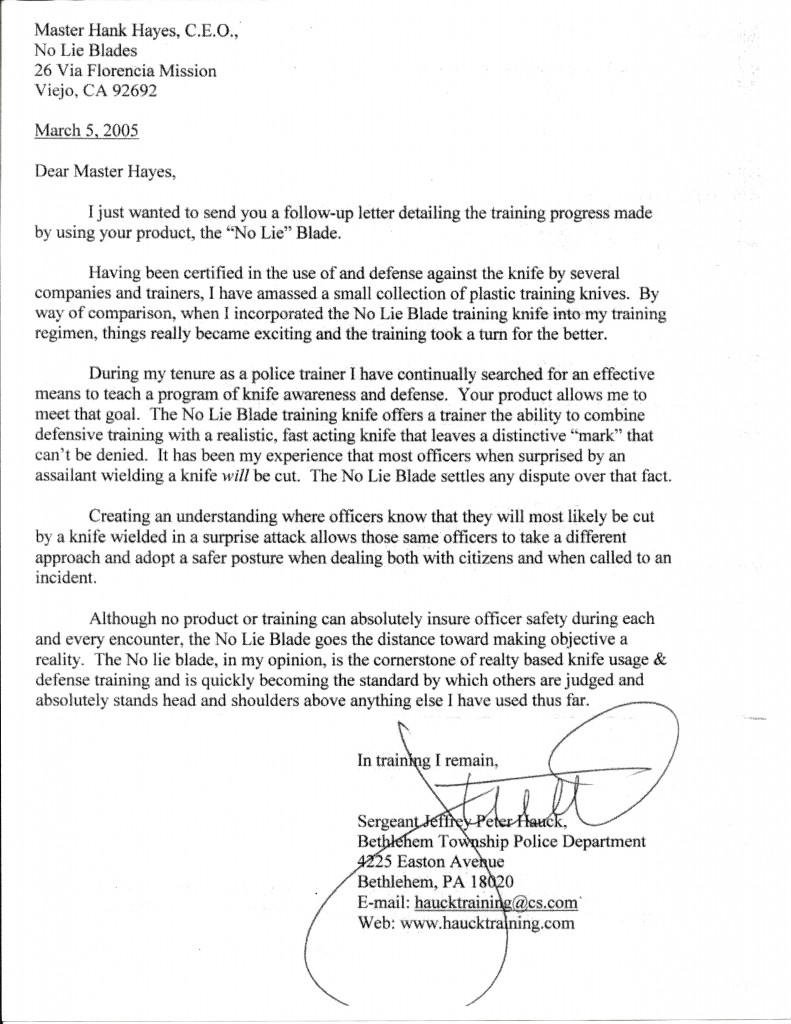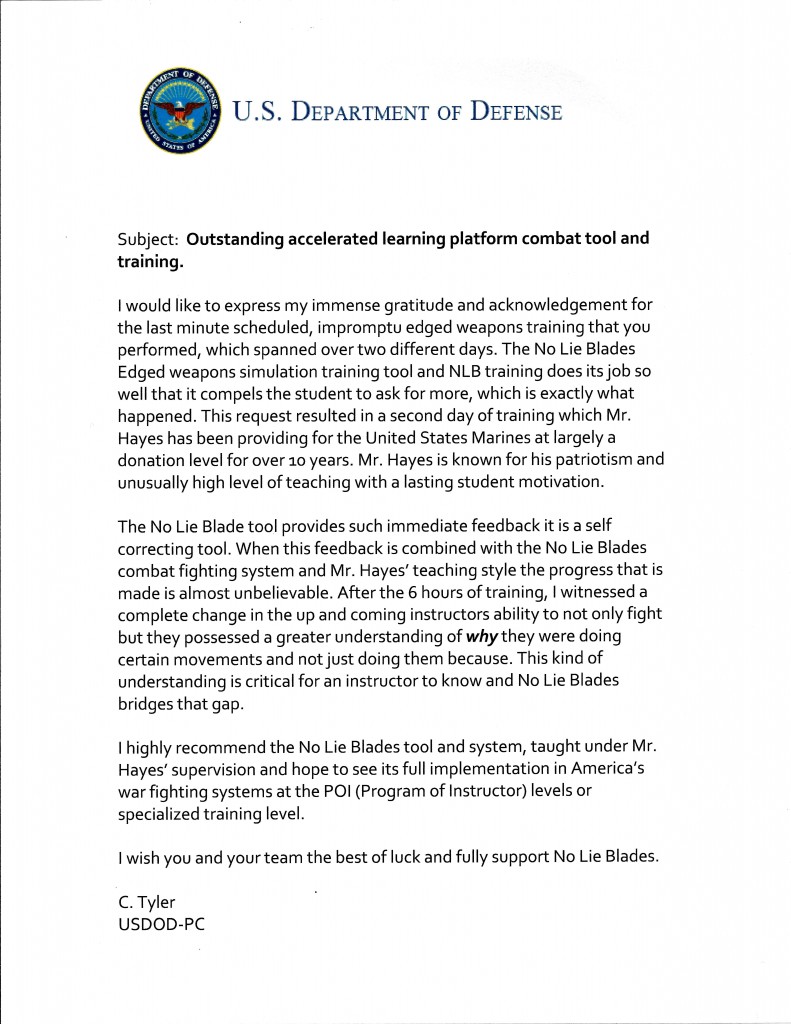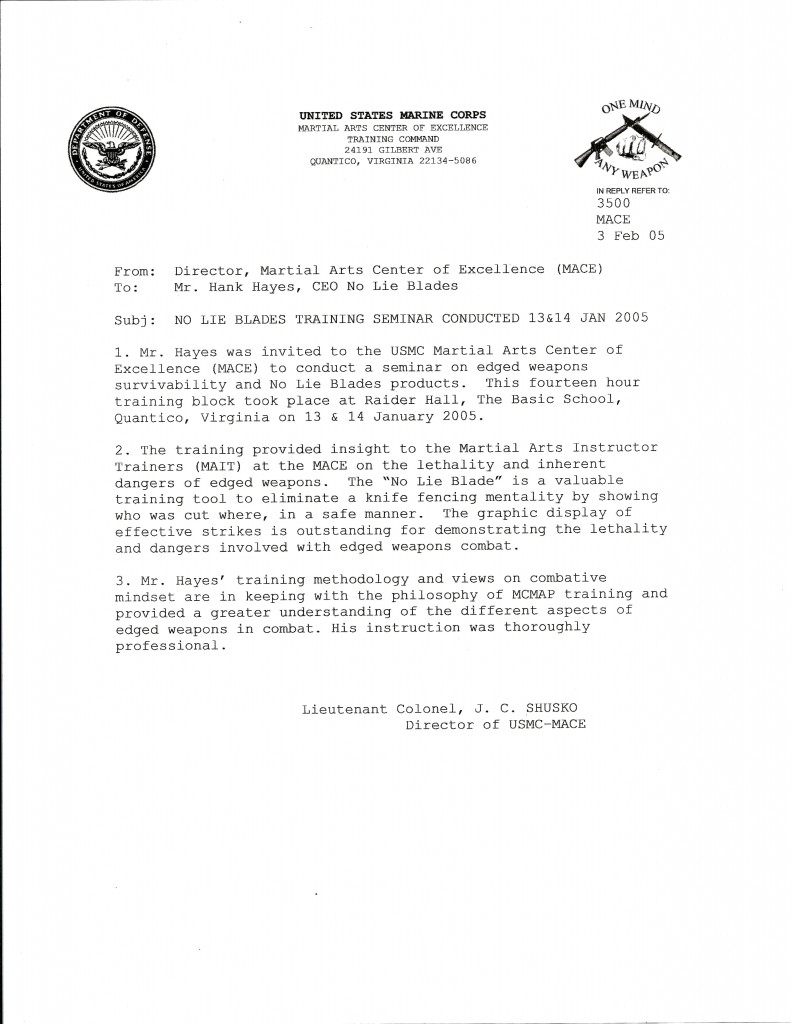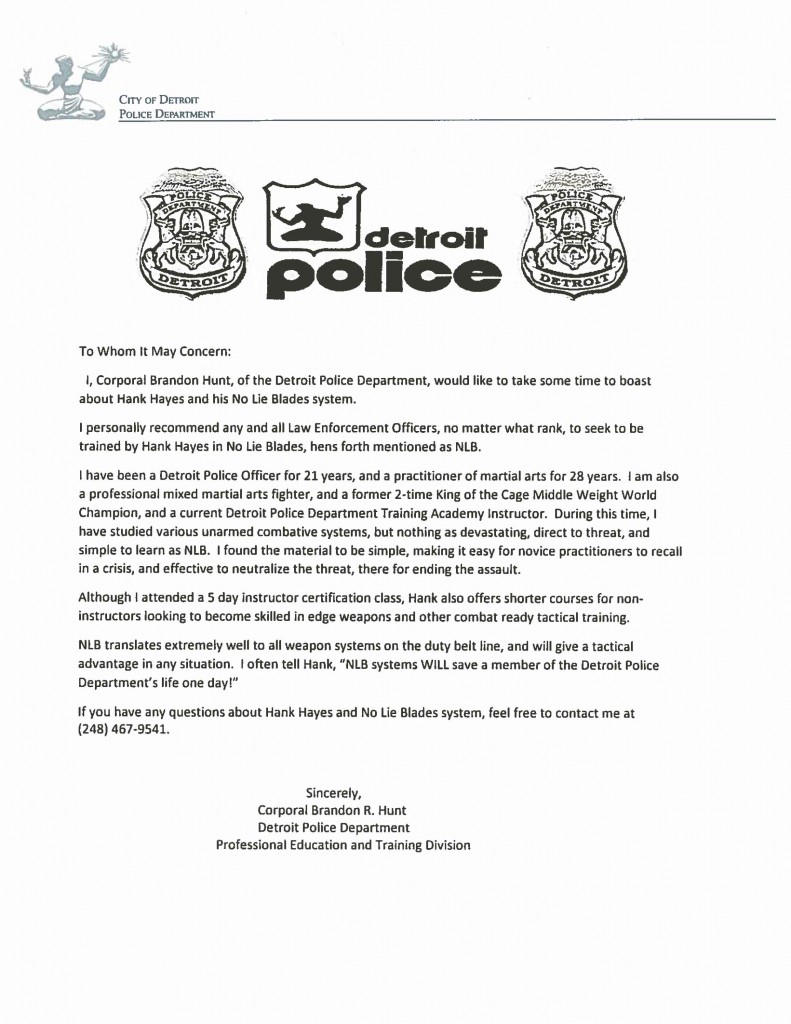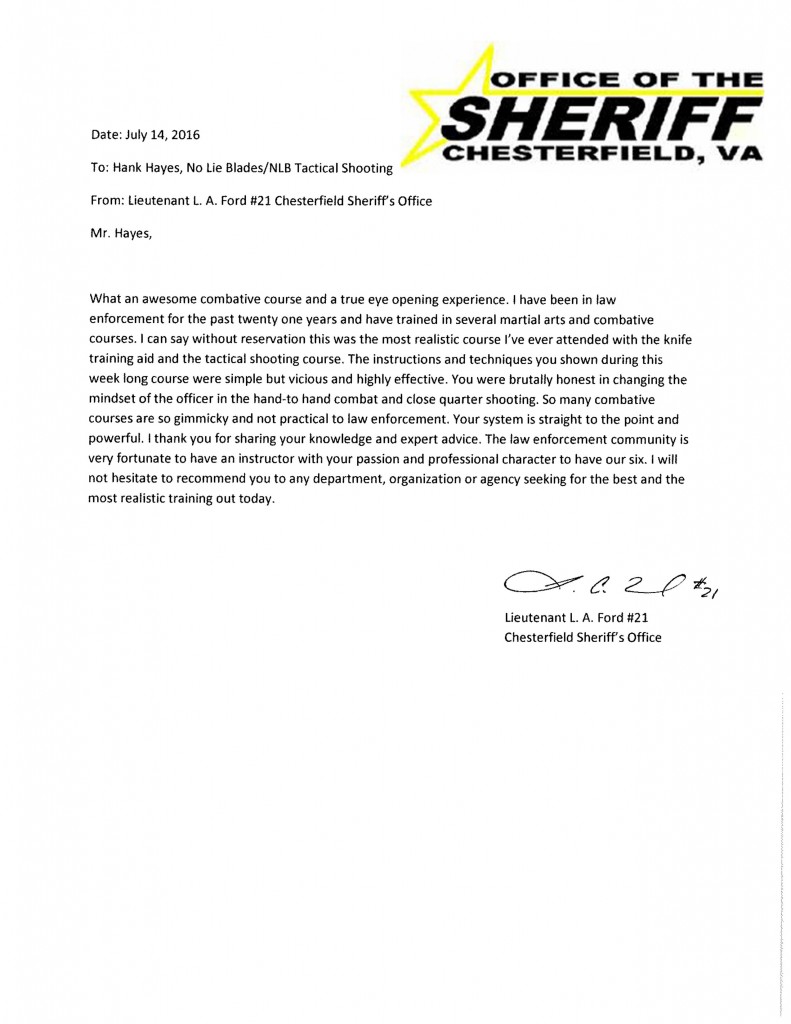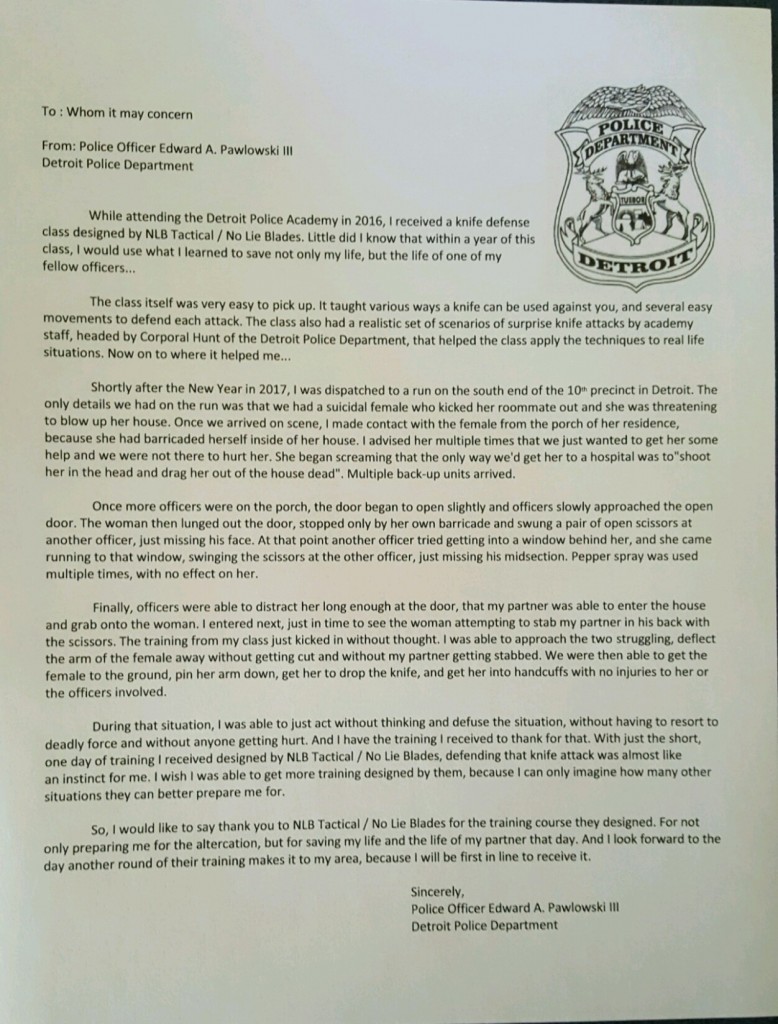 I can say without reservation this was the most realistic course I've ever attended with the knife training aid and the tactical shooting course. The instructions and techniques you shown during this week long course were simple but vicious and highly effective.
Lieutenant L.A. Ford
Chesterfield Sheriff Office
———————————————————————————————–
I personally recommend any and all Law Enforcement officers, no matter what rank, to seek to be trained be Hank Hayes in NLB Tactical and No Lie Blades training. NLB translates extremely well to all weapons systems on the duty belt-line, and will give a tactical advantage in any situation!
CPL Brandon R. Hunt
Detroit Police Deparment Professional Education and Training Division 
———————————————————————————————-
"The No Lie Blades marking training knife leaves a distinctive "mark" that can't be denied. It has been my experience that most officers when surprised by an assailant wielding a knife WILL be cut. The No Lie Blade settles any dispute over that fact."
Sgt. Jeffery Hauck 
      Bethlehem Police Department
———————————————————————————————
"These marking training knives give you feedback right on the spot from which you can adjust your tactics. The No Lie Blades Law Enforcement course is one of the best Law Enforcement classes I have taken in my career. "
 Sgt. Ortiz
      Camden Police Department
———————————————————————————————
"In too many cases, the defensive tactics taught by police departments will not work against a suspect that is putting up real resistance. If needed I felt I could of used any of the defensive tactics the same day I was taught them. The marking training knife that you've provided delivered consistent information in which the whole group could see just how effective we were. As a result it pushed the whole team to perform better. I only wish this training were available to all officers."
     Cliff Byerly 
      Los Angeles Police Department / Narcotics Unit 
———————————————————————————————
"For any one Police officer, Corrections officer, School resource officer and Military this is a must have training tool for our dept."
      -DSgt. McVeigh
      Berlin Twp Police Dept / SWAT team
———————————————————————————————
" The No Lie Blades system is quickly becoming the standard by which others are judged."
    -Sgt. JH –  BTPD
———————————————————————————————
"There are few better trainers worldwide than Hank Hayes / No Lie Blades when it comes to getting results in hands on edged weapons / combat tactics.  His training and marking training knives are top notch".
-Dave Smith "Buck Savage" Policeone.com
———————————————————————————————–
To : Whom it may concern
From: Police Officer Edward A. Pawlowski III
Detroit Police Department
While attending the Detroit Police Academy in 2016, I received a knife defense class designed by NLB Tactical / No Lie Blades. Little did I know that within a year of this class, I would use what I learned to save not only my life, but the life of one of my fellow officers…
The class itself was very easy to pick up. It taught various ways a knife can be used against you, and several easy movements to defend each attack. The class also had a realistic set of scenarios of surprise knife attacks by academy staff, headed by Corporal Hunt of the Detroit Police Department, that helped the class apply the techniques to real life situations. Now on to where it helped me…
Shortly after the New Year in 2017, I was dispatched to a run on the south end of the 10th precinct in Detroit. The only details we had on the run was that we had a suicidal female who kicked her roommate out and she was threatening to blow up her house. Once we arrived on scene, I made contact with the female from the porch of her residence, because she had barricaded herself inside of her house. I advised her multiple times that we just wanted to get her some help and we were not there to hurt her. She began screaming that the only way we'd get her to a hospital was to"shoot her in the head and drag her out of the house dead". Multiple back-up units arrived.
Once more officers were on the porch, the door began to open slightly and officers slowly approached the open door. The woman then lunged out the door, stopped only by her own barricade and swung a pair of open scissors at another officer, just missing his face. At that point another officer tried getting into a window behind her, and she came running to that window, swinging the scissors at the other officer, just missing his midsection. Pepper spray was used multiple times, with no effect on her.
Finally, officers were able to distract her long enough at the door, that my partner was able to enter the house and grab onto the woman. I entered next, just in time to see the woman attempting to stab my partner in his back with the scissors. The training from my class just kicked in without thought. I was able to approach the two struggling, deflect the arm of the female away without getting cut and without my partner getting stabbed. We were then able to get the female to the ground, pin her arm down, get her to drop the knife, and get her into handcuffs with no injuries to her or the officers involved.
During that situation, I was able to just act without thinking and defuse the situation, without having to resort to deadly force and without anyone getting hurt. And I have the training I received to thank for that. With just the short, one day of training I received designed by NLB Tactical / No Lie Blades, defending that knife attack was almost like an instinct for me. I wish I was able to get more training designed by them, because I can only imagine how many other situations they can better prepare me for.
So, I would like to say thank you to NLB Tactical / No Lie Blades for the training course they designed. For not only preparing me for the altercation, but for saving my life and the life of my partner that day. And I look forward to the day another round of their training makes it to my area, because I will be first in line to receive it.
Sincerely,
Police Officer Edward A. Pawlowski III
Detroit Police Department
Comments
comments