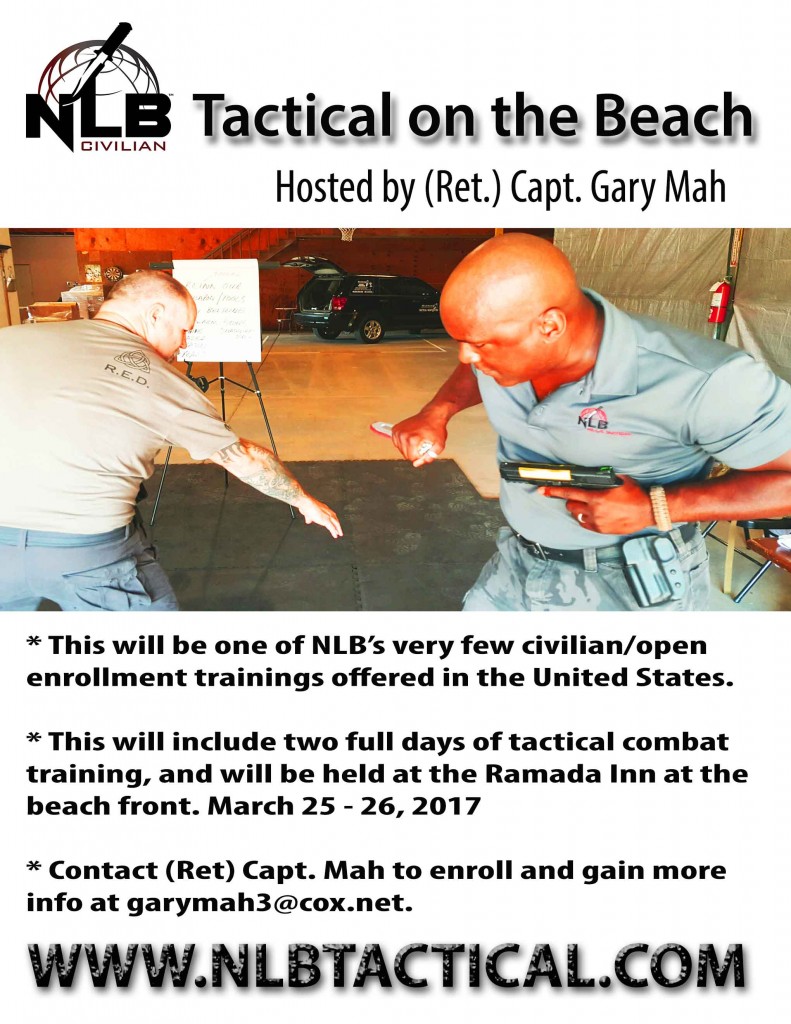 This course is being hosted by (Ret) Capt. Mah.
Course information just as Capt. Mah (Ret) has released it.
Save the dates March 25-26, 2017
I am happy to announce I will be hosting "No Lie Blades Tactical Combat Arts on the Beach", NLB, with Hank Hayes, March 25-26, 2017 (Saturday and Sunday).
This will include two full days of tactical combat training and will be held at the Ramada Inn located at 615 Atlantic Ave. Virginia Beach, Va. 23451 in the resort area.
This will be one of Hank Hayes's very few hosted civilian/open enrollment trainings offered in the United States. Hank Hayes has limited his United States training to Military and Law Enforcement only in the past 18 years and this is a special opportunity to participate in his training as a civilian.
I have personally been training through private lessons with Hank Hayes since March 2016 and give him my highest endorsement as being the real deal. This is not marital arts training but combat arts training, survival and winning training. You owe it yourself to be able to survive and win an attack from an edge weapon or any other weapons, his core training, to using weapons of opportunity in your environment which acts as a force multiplier to increase your chance of winning. This will be presented in a special two-day format.
Who is Hank Hayes and what does he teach?
In 1997 Hank invented the No Lie Blades Training Knife and in 2002 released the No Lie Blades Edged Weapon Tactical Fighting System. His company is an official Department of Defense / GSA Contract firm with a 97% US government past performance record. As of Jan 2014 his company has officially and successfully trained over 19,002 operators from DI's (Drill Instructors), SOCOM (Special Operation Command), SF (Special Forces), fast entry groups, S.W.A.T. teams, Sheriff Dept.'s, Corrections, Patrol officers, and many Force Protection units. NLB courses are now accredited in several different states are on the United States GSA 84 contract.
His core training is defeating an edge weapon attack and turning your defense into an offense.
Please check out his letters of recommendation from Tier 1 groups: http://trainingknives.net/testimonials/
What material will be covered?
• Fact finding to define truly where your skillset is against a committed knife attack.
• Learn the four ranges of fighting skills assessment.
• Video playback review sessions.
• Learn the necessary and useful knife grips, stances and foot work.
• Understand edged weapons lethality the risks of immediate knife contact.
• Active knife meat cut session.
• Learn the top 3 things that special forces learn to tactically to stop a committed knife attack.
• Learn and define edged weapons awareness of several types of cutting weapons.
• See yourself with video feedback learning sessions.
• High pressure scenario training.
• Explore operator level knife selection, carry position and deployment drills.
• Learn the T.N.T. explosive fighting skills.
• Learn Pre-incident indicator skills building (body-language reading).
• Drills for building edged weapons survival skill and why you're training those drills.
• Using barriers to entry and weapons of opportunity.
• Execution of compounded violent strikes.
• Verbal commands before and during the encounter.
• Multiple attacker neutralization techniques.
• Team system survivability tactics.
• Open question and answer section.
• Edged weapons attacking skills.
• Anatomy education on disabling & terminating target locations.
• Written exam.
• Graduation.
How physical is this training and what shape do I need to be in?
First I would like to say that I do this training and I am up for Social Security benefits this year so if I can do it you be the judge of yourself.
Hank has never had a serious injury with his training with either law enforcement or military special forces. He critically monitors for safety and each person goes at their own pace. However, I know an attacker is not going to go easy on me due to my age and most likely will see an older person as an easier prey. I train for these reasons and I believe this type of training is necessary for my well-being at this stage in my life.
Is No Lie Blades on Facebook so that I can find out more about him and follow future post to learn more about him?
No Lie Blades link to Facebook: https://www.facebook.com/nolieblades/
To learn more about Hank Hayes No Lies Blades visit his website at this link: http://trainingknives.net
I endorse Hank Hayes' training, believe it works and allows me to incorporate my past training to combine all my skill sets for surviving a deadly attack and winning. This is a special opportunity and for it to happen I need a commitment from people soon.
If you have further questions, please contact me to help you decide to join us in March 2017.
To register: Please send a check for $375.00 payable to" NLB 2017, Gary C. Mah". This check will not be cashed until March 16th, 2017 about 10 days before the event March 25, 2017.The mailing address is:
Gary C. Mah
2956 Buccaneer Road
Virginia Beach, Va. 23451
DATES: March 25-26, 2017 (Registration begins Saturday 8:30am and Training begins at Saturday March 25, 2017 @ 9:00AM Saturday and ends Sunday at 3:30 PM)
SEMINAR COST: $375.00 for entire weekend. This price does not include any food or lodging.
LOCATION AND LODGING: The seminar will be conducted at The Ramada Inn on the Beach, 615 Atlantic Avenue, Virginia Beach, Virginia 23451.
Seminar participants qualify for a special seminar room rate of $79.00 plus taxes per night for Oceanfront rooms with private balcony. All participants are required to make their own lodging arrangements. You may use the link below to assure getting the special rate which is confirmed until March 21, 2017 when the block of rooms not reserved will be returned to the hotel inventory.
http://bookings.ihotelier.com/bookings.jsp…
Or you may call the reservations department at the Ramada Inn 877-816-8783. You will need to let the reservation agent know you are wanting to book a room under the No Lies Blades Group.
The nearest airport is Norfolk International (ORF). The hotel does not have shuttle service from the airport. Taxi fare is approximately $45.00 one way.
CANCELLATION POLICY: Prior to February 26, 2017 you may cancel your reservation for any reason and receive a full refund. On or after March 1, 2017 a 50% refund will be offered with the balance being credited to a future NLB course offered in Virginia Beach.
If you have any questions or require additional information, please contact me at: garymah3@cox.net.
(Ret) Gary C. Mah
Training Host
Comments
comments