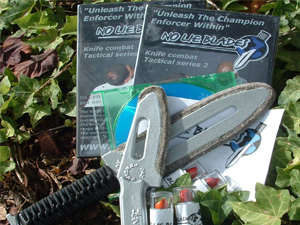 The NLB starter kit is just that, a kit to get you completely started with a new level of training. The reason that high risk Military special teams and Law Enforcement use No Lie Blades training knives and education are because we get results that save lives fast.  Today's teams do not have the time nor will they waste money on products and services that don't get them results.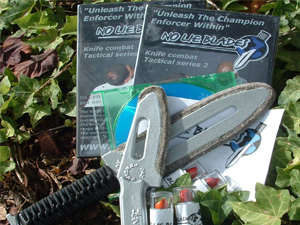 In the starter kit you will receive the following:
Volume 1 & Volume 2 Unleash the Champion Enforcer DVD Set.
In this video DVD set we cover the same material than our live 2 day-16 hours L/E training plus more. If you put the time in and train with partners that deliver aggressive attacks and you follow the example demonstrated you will turbo charge your combat knife skills immediately. This is why Government special teams use our tool.
One Street Trainer training knife
One Series One Double Edged training knife
The blades shaft is 356 Alloy mold crafted aluminum.
The felt is SEA level 2 industrial felt
4 Marking Sticks
Training & Usage Instruction Guide
Impact / Injury Chart
NLB Demo / Instructional CD
Uncategorized
Comments
comments